The more I learn about gut health, the more I am convinced it is the greatest superpower we can give our children (with empathy being a close second).  When I learned that my children's gut health would be largely established upon entering preschool and would affect their personality, mood, and ability to focus in school, I knew I needed my kids on board with a huge lifestyle change.  However, getting children to consume  25 different plant species in their diets every week for optimal gut health is a little overwhelming when mac and cheese is your child's favorite meal! 
Speaking of mac and cheese. After years of living in "new-mommy-brain-fog" from lack of sleep and poor diet, I accidentally stumbled upon the concept of gut-health when I brought my nine-month-old daughter in for allergy testing due to a persistent rash. Because I was breastfeeding at the time, the allergist recommended I give up dairy, eggs, and gluten for a few weeks to see if the rash improved. Consequently, I spent a few months focusing on gut health by eating a whole-foods, plant-based diet and cutting out sugar, alcohol, and processed foods.
After a couple of days, I suddenly became keenly aware of how extraordinarily clear-headed and energized I felt (instead of my the usual fatigue and brain fog). I suddenly felt like a super mom!  So, why not train our children to eat optimally from the beginning so they develop the habits to look and feel their best?   Luckily, there are wonderful books and resources for getting kids on board with a healthy gut diet. 
The Best Children's Books for Teaching Kids about Gut Health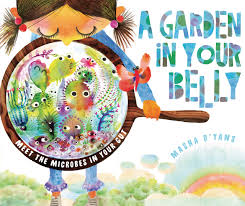 A Garden in Your Belly, by Masha D'Tans, is a beautifully illustrated book about the gut's inner workings. I recommend this book for ages 4+.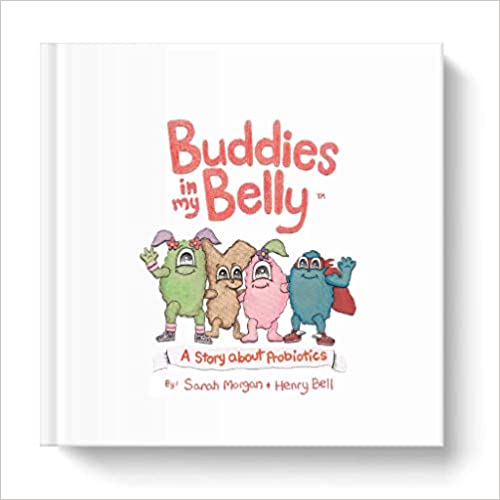 Buddies in My Belly, by Sarah Morgan is a fun way to learn about the different strands of probiotics in your body and how to take care of them. These cute characters make teaching kids about gut health so much fun. I often encourage my kids to finish their fruits and veggies by reminding them about the "Buddies" in their bellies. Works every time!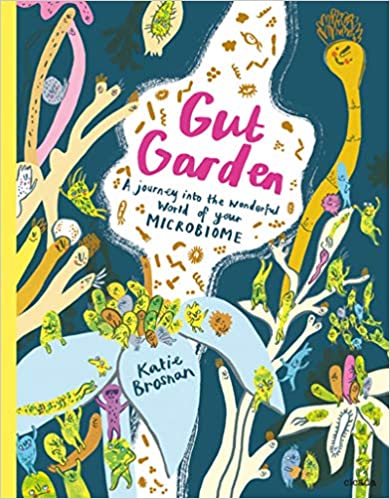 We just ordered Gut Garden by Katie Brasnan and I can't wait to check it out!
Books for Encouraging Kids to Try New Foods
I don't believe in "picky eaters". When my children eat processed snacks (crackers or sweets), eat a snack right before a meal, or don't get a lot of exercise, they pass on their vegetables because they aren't hungry enough. On the contrary, when they have a couple of apple slices for a snack (at least 2.5 hours before dinner) and get plenty of time playing outside, they devour their vegetables.
Simply put, if we don't allow any room in our children's diets for processed snacks, set clear limits on when and how much they can snack, and serve them well-cooked, high-quality organic vegetables, they will eat them- con gusto! And since eating a diverse diet is key to a healthy microbiome, here are some fabulous children's books to encourage kids to try new foods:
Green Eggs and Ham by Dr. Suess is a classic story for all ages and a fun way to practice rhyming. If your child is resistant to trying new foods, just remind them of the end of this story and say, "Try them, try them, and you may! Try them and you may, I say." This book will soon be featured as a Mighty Books + Brains lesson for preschoolers.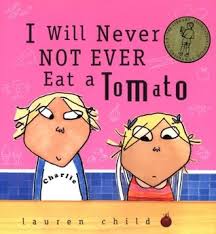 I Will Never Eat a Tomato by Lauren Child is another highly entertaining story of a main character overcoming her resistance to trying new foods.
The Best Book for Introducing a New Family Diet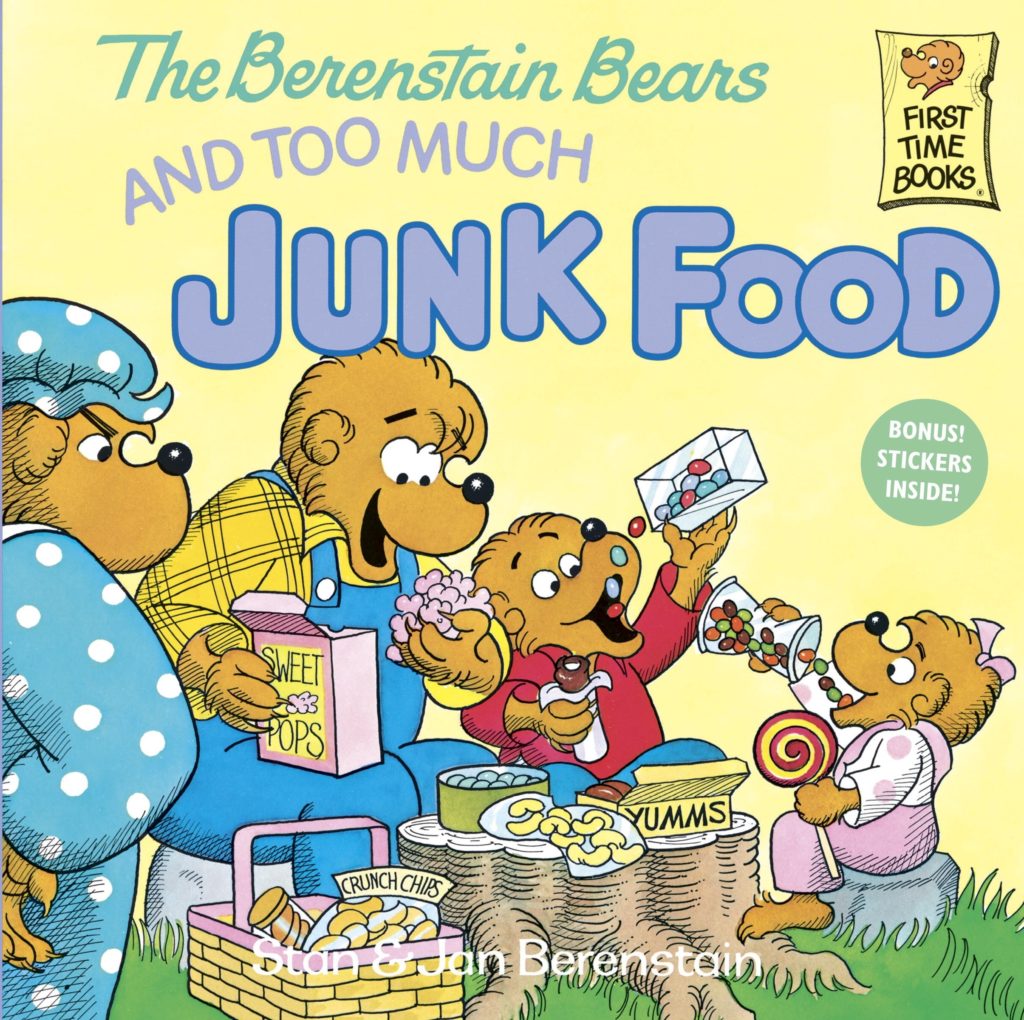 The Berenstain Bears and Too Much Junk Food is the perfect story to introduce some new rules to your little ones. If you feel ready to commit to a more wholesome diet, this is a great story to show them how a family can change for the better together. It is a lot easier to improve your eating habits when everyone is on board, and the cupboards are empty of junk food!
Activities for Teaching Kids about Gut Health
Make a Rainbow Chart. Making a rainbow chart is a fun way to track the variety of colorful fruits and veggies you and your family eat each week.
Play in the dirt. Playing in the mud kitchen or "gardening" is a great way to introduce good bacteria to the microbiome. (And ditch the hand sanitizer).
Create Fruit and Vegetable Superheroes. Designing a vegetable superhero is a fun way to talk about the vitamins in various fruits and vegetables. For example, Curt the Carrot can see very far due to all that Vitamin A!
Products We Love for Teaching Kids about Gut Health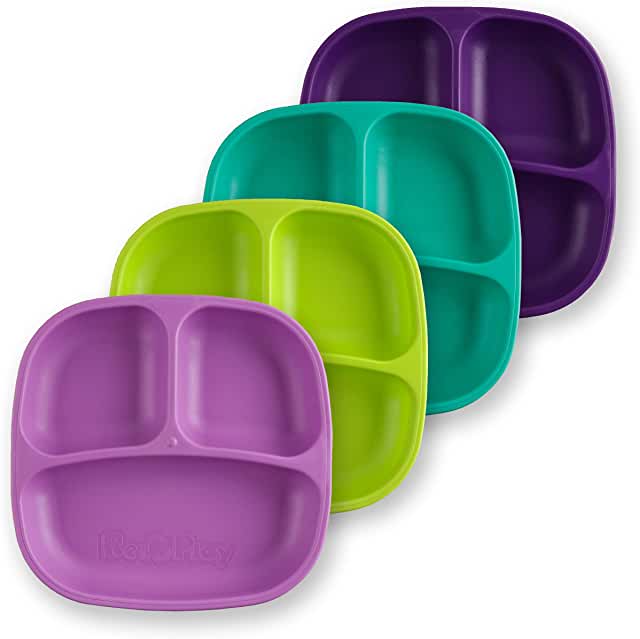 These Re-Play divided plates (made from recycled milk jugs) are an easy way to designate half your child's plate to vegetables. Whole Grains and beans, as well as protein, go in the other sections. In addition, kids can also use these plates to practice serving healthy meals in their play kitchen!
Check out buddiesinmybelly.com for some really great additional resources for teaching kids about gut health.